Class of 2023
Updated:
5/18/23
On behalf of the Faculty & Staff at Pueblo, we would like to congratulate the
Class of 2023
along with their family and friends! Commencement represents more than an end to your student's years at Pueblo; it marks the exciting beginning of his or her professional life. We look forward to welcoming you to our campus for the big day in May, and to seeing this year's graduates go on to make their marks in the world.
Once a Warrior... Always A Warrior!
Class of 2023 Photo Gallery
Class of 2023 Graduation Program in PDF
Class of 2023 Honors Program in PDF
Event Admission
You DO NOT need a ticket to enter the Commencement Ceremony. Our Ceremony is open to all family and friends of our graduates. All guests are asked to cooperate with school officials throughout the ceremony in order to maintain a safe and orderly environment.
Livestream
Event will be live-streamed on our
YouTube Channel
starting at 6:55PM. Details will be posted in May of 2023.
Parking
Parking is limited and fills up very quick. Be cautious as you enter and leave the parking lot. If you must park off campus, please obey all traffic signs and regulations. Make sure to lock your car and don't leave any valuables. Tucson Police will be on hand to direct traffic.
Caution:
TUSD, Pueblo, businesses or churches will not be responsible for any damages of vehicles or personal property parked at any site around campus.
Handicap Parking & Seating
The parking lot behind the grandstand is reserved for handicap guests. A special ticket is required to enter through Gate #4 off 16th Avenue. The handicap seating section is in front of the grandstand (Space is limited).
Severe Weather
Graduation is usually attended by more than 2,500 people. In the event of severe weather, we will move ceremony to Lever Gym. Our gym will only accommodate approximately 1,600 people. Unfortunately, we will need to be very strict with the use of rain tickets in order to limit the number of people that are admitted.
We will only make this decision as a worst case scenario based on current weather conditions prior to graduation. We appreciate your understanding and cooperation with these plans to protect our graduates and families in the event of severe weather.
Important Downloads
Graduation Checklist in PDF
Graduation Rules & Regulations in PDF
Lista de Verificación para Graduación en PDF
Reglas y Procedimientos para Graduación en PDF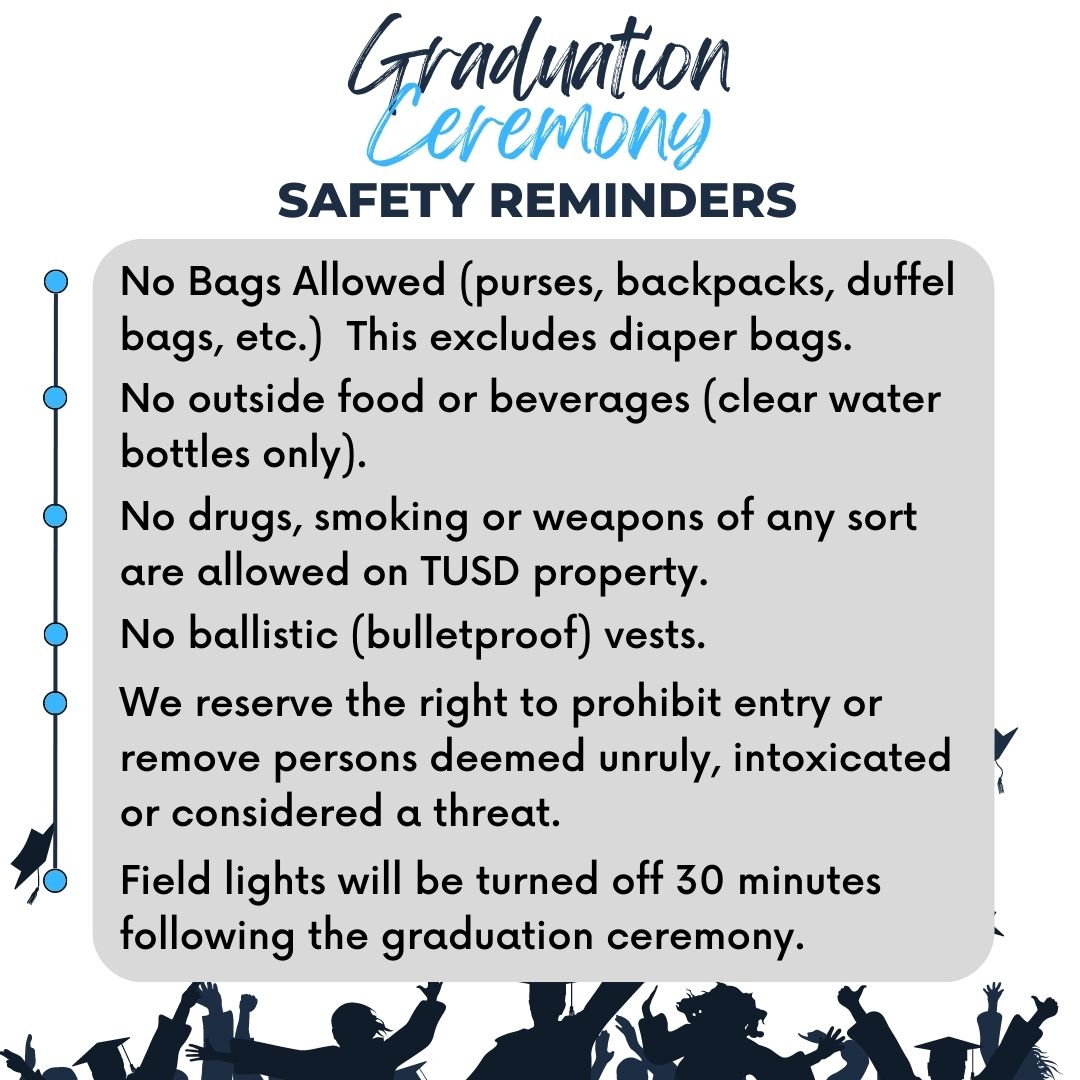 Event Details
When:
Thursday, May 25, 2023
Where:
Santa Cruz Stadium (Football)
Time:
7:00 p.m.
Livestream:
Live on YouTube
Program:
Available at Main Entrance. You can also download
PDF version
.