About Lorraine Lee
Updated:
4/1/18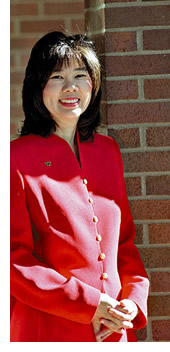 The Pueblo Community honors the legacy of Lorraine Lee (Pueblo Class of '74). A champion of those marginalized by society, Lee's leadership improved our community for all people.
"Lee rallied interest on issues related to immigration, wages and education; spoke out against racism; worked to create affordable housing for the elderly, the poor and minority people", said Tucson City Court Judge Margarita Bernal who met Lee in college.
Lee grew up as a biracial child on the south side not feeling fully accepted. Lee graduated from Pueblo High School, the University of Arizona, and then went on to receive a master's degree in urban planning at UCLA.
It was at Chicanos Por La Causa (a social service agency) where Ms. Lee became the champion of the poor who would hold those in power accountable for providing needed services.
In an era of greed and excess that has threatened our very economy it is refreshing to reflect on Lorraine Lee's works and words. "We want what everybody else wants - food on our table, a roof over our heads and a better future for our children." We are inspired by Lorraine Lee to continue her pursuit for social justice through community activism.
"She cannot be duplicated": Courageous to the point of fearlessness, Lorraine Lee had a vision and the verve to see it fulfilled.
Read more about Lorraine Lee on
Tucson.com
Award Requirements
Purpose
The purpose of the Pueblo High School Lorraine Lee Service Award is to honor Pueblo students and staff who have given of their time to better our school and community. The intent is to encourage student and staff involvement at Pueblo. Service is considered to be, "An act of giving assistance or advantage to another. Work done for the benefit of others" (Websters Dictionary)
Qualifications
To qualify for this award, participants need to demonstrate campus and community service by joining and being involved in clubs and after school activities as well as being an overall ambassador for Pueblo. All service hours must be done before or after school hours and must be unpaid. In addition, hours performed for court ordered community service cannot apply.
Student Awards
Letter P for Cummulative Service over your years at Pueblo
200 hours of service to school and/or commuinity
Maximum of 20 hours for club business meetings
Maximum of 75 hours for service outside of Pueblo
Guidelines
Club business meetings have a cap as service hours however meetings that involve direct service as defined here will count for service hours.
Students must document all hours and bring this documentation to an advisor or club sponsor. This faculty member will issue a certificate for the hours completed.
Once the student has accumulated certificates for 200 hours s/he will take the certificates to the Assistant Principal to receive a letter.
Enrollment in classes such as Student Government or DECA cannot count towards service hours. However, documented hours for activities that take place after school will count.
Lorraine Lee Service Pin
For hours completed after those required for the letter P
75 hours
Past Winners
2020-2021
Student: Yakeleen Almazan
Staff: Dr. Andrew Lettes

2019-2020
Student: Alek Mendez
Staff: Dr. Lolita Levine

2018-2019
Student: Yazmin Almazan
Staff: Paulette Livio-Velez

2017-2018
Student: Elena Garcia
Staff: Greg Obregon

2016-2017
Student: Valentino Lugo
Staff: Ernesto Somoza

2015-2016
Student: Bernadette Romero
Staff: Sarah Sutton

2014-2015
Student: Bianca Molina
Staff: Jesus Orduño

2013-2014
Student: Priscilla Leyva
Staff: Saul Ostroff

2012-2013
Student: Cecilia Machado
Staff: Martha Avila-Miranda

2011-2012
Student: Jesse Garcia
Staff: Teresa Toro

2010-2011
Student: Jhunuel Arrizon
Staff: Kate Straub

2009-2010
Student: Bill Del La Rosa
Staff: Jennifer Sprung