Athletics Information
Athletics Director
Contact Miguel Sandoval By Email
520.225.4335
Administrative Secretary
Contact Susanna Ugaldevazquez By Email
520.225.4312
Athletics Office

Resources
AIA Website
Coach Manual 2022/23
Gallery Archive
State Championships
Trainer & Weight Room
Trophy Case

Welcome To Warrior Athletics!
Updated: 9/6/21

Pueblo continues its long and rich tradition of excellence in academics and athletics. We are very proud of our past, present and future student-athletes. We plan to compete for regional and state championships.

As Warrior Athletes we pride ourselves in representing our school on and off the field by practicing the six pillars of character. We encourage you to get involved in Warrior Athletics and become part of our rich tradition.

Pick up your athletic packets in the Activities Office located in the north side of the main building to get started. Participation in athletics enriches your high school experience and provides lasting memories. We advise you to talk to the coaches and current student-athletes for more information. Many will tell you how participating in athletics has been one of their best decisions. Contact information for all our coaches can be found by clicking on the individual sports links on the left of this page.

We hope to see you at the games to cheer on our Warriors! Schedules are posted a few weeks before the start of the each season so that you can plan your visits. Family Athletics passes are available for purchase for your convenience. Ask for those at our athletics events. Don't forget to wear blue to our home and away games. Our student athletes always play better the louder you cheer the on.

Thank you to for your continued support of Warrior Athletics!
Always remember: We Are... FAMILY!
ATS Registration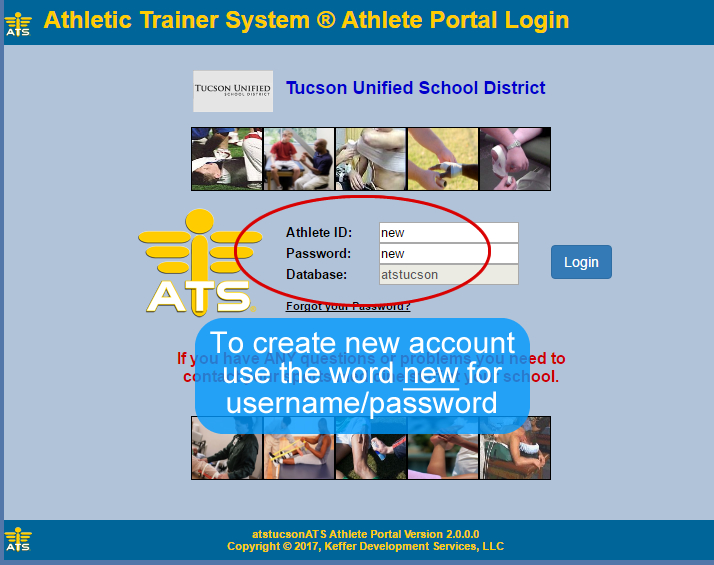 All Sports Physicals
need to be completed and turned in prior to the start of
official practice
. Students cannot practice without having completed ATS & Sports Physical.
All TUSD Athletes will have to register online at
tucson2.atsusers.com
this year before they can practice. To create a new account type the word "new" for both username and password. For Database use: atstucson.
If you are having trouble with creating a new account or filling out information, please contact the Athletics Office at 225-4312 or contact our coaches.
Instructional Videos
Brainbook & Opioid Education