Please Obey All Signs
Updated:
8/29/19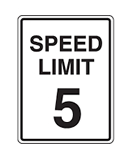 5 MPHStudents must recognize the fact that driving and parking on campus are privileges that may be revoked due to repeated or serious violations of school rules. All vehicles must park in designated parking areas only. The posted speed limit on campus is
5 MPH.
Any driving that poses a threat to persons or property, or causes a disruption to the educational process, is strictly prohibited (including, but not limited to, the screeching of tires, the playing of loud music from car stereos, haphazard parking, leaving campus in a vehicle without permission, etc).
Campus Vehicle Parking
Each vehicle driven onto campus must be registered with the office of the Assistant Principal for Security, and display the appropriate parking permit for the school year. A parking fee of
$6.00
will be charged for student parking privileges. Students must present a valid drivers' license, vehicle registration, and proof of insurance at the time of permit purchase and
must not have any debts in the Business Office.
Students may park in all areas not reserved or specially designated for other purposes. Parking in non-authorized areas may result in the revocation of parking privileges on campus.
Numbered parking permits will be issued and are to be displayed hanging from the rear view mirror of the vehicle at all times while on campus. Parking privileges will be extended to seniors on a space available basis. Any remaining permits will be made available to juniors on a first come, first served basis. Vehicle registration will take place during summer registration.
Vehicle Access To Campus
Parents may drop-off students at the east pedestrian gate located along 12th Avenue or the west pedestrian gate located along 16th Avenue.
12th Avenue Drop-Off Zone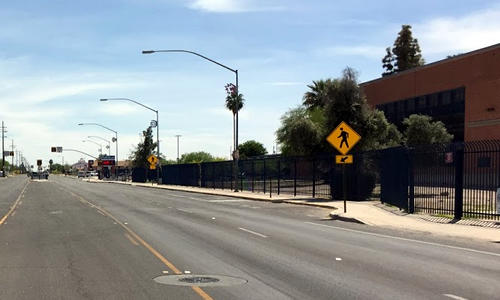 16th Avenue Drop-Off Zone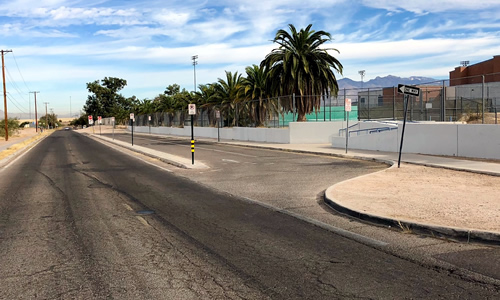 The South Gate on Calle Romeo will be open only for school busses entering campus. Other vehicular and pedestrian traffic will not be allowed entrance to campus from the south gate.
Vehicles not displaying the appropriate parking permit will not be allowed on campus at any time. Visitors with legitimate school business must obtain a temporary parking permit from the security staff member on duty at the southeast (12th Ave) gate during the school day.
Note:
Making a left turn heading north on 12th Avenue into Pueblo is not allowed. Be aware that the Tucson Police Department has been ticketing drivers.
Also, the church parking lot south of Pueblo and the shopping center east of Pueblo have been posted against trespassing. Tucson Police have been issuing tickets to people parking illegally in those parking lots.